Dreams Untitled Project
A suicide is attempted in the United States every minute.
Help raise awareness about suicide-prevention advocacy.
Dreams Untitled
Blog: http://dreamsuntitledproject.tumblr.com
RSVP on Facebook: http://tinyurl.com/ycox2wr
What:
April 21st, 2010 - Individuals all across the nation (and some internationally) will come together to open up dialogue on suicide and suicide-prevention awareness.
Dreams Untitled is a national campaign calling on individuals to create inspiring sidewalk chalk murals in public areas such as parks, university courtyards, town & city courtyards, sidewalks, and more (note: please obtain proper permission to chalk).
Each chalk mural is the artist's own interpretation of hope. It is a personal creation capturing the essence of what dreams tomorrow may bring. A personal story encouraging others to keep pushing. A story that shines light on the potential and hope that the future holds.
On the night of April 21st, we are asking Dreams Untitled participants to organize local vigils to remember those who have lost their lives to suicide.
We also ask all participants to speak out about suicide statistics and raise awareness of suicide-prevention advocacy in your area. Reach out. Share your story. Write to your community newspaper or tell your loved ones. Tell people why you are participating in Dreams Untitled and why it is so important to share hope.
Dreams Untitled will also be highlighting the efforts of national and local suicide-prevention organizations on our project blog. It is our hope to help raise awareness of the efforts being made for suicide-prevention.
When:
Chalk murals are to be created at any point during the day of April 21st, 2010. Time and location is left up to each participating group and muralist.
The design of each mural is left up to the artist. Every mural is a personal creation and vision of hope.
Vigils are to be organized on the night of April 21st, 2010. Time, location, and event structure is left up to each organizer. 
We are purposely leaving room for all participating individuals, organizations, and universities to make Dreams Untitled something of their own.
(Note: If rain is scheduled for your area, do not worry. Pick up a can of clear acrylic spray coating. Pat the ground with a towel before drawing your mural. Press hard with the chalk. Spray clear acrylic coating over the mural immediately after it is finished. This will help protect it from the rain).
Email & Blog:
April 21st, 2010 is the launch of this annual, nationwide campaign. We want to help keep hope alive throughout the entire year by putting up pictures of your murals on our official project blog. We ask that all participants email pictures of their chalk murals to chalkmessages@gmail.com. 
The project blog can be found at: http://dreamsuntitledproject.tumblr.com
And finally, how did Dreams Untitled begin?
Dreams Untitled is taken from a journal entry of a (then) college student.
"So many dreams, experiences, and good things are yet to come in life. The future is filled with dreams still left untitled."
This is the essence of Dreams Untitled: Reaching out to people of all walks of life and calling attention to the hopes, dreams, and potential that the future holds.
Please join us in creating a small bit of hope.
April 21st, 2010.
http://dreamsuntitledproject.tumblr.com
Check out our other nationwide campaign: The You-Are-Loved Chalk Message Project: http://tinyurl.com/ybpvf4t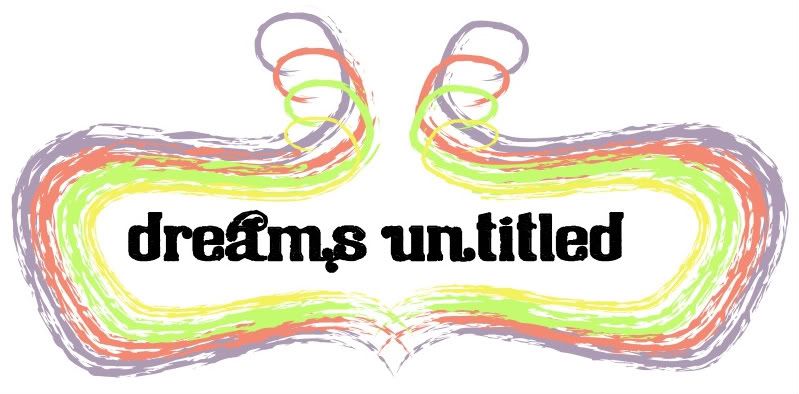 dreamsuntitledproject posted this